Kent County Council has unwittingly destroyed a nationally important roadside nature reserve (RNR), home to tens of thousands of orchids, as it carried out drainage ditch clearance works.
Verges at Blue Bell Hill RNR, just north of Maidstone, were churned up by heavy vehicles working on the site, in some places down to the chalk.
Owned by Kent County Council, the verge has been managed by volunteers from Kent Wildlife Trust for 15 years. As well as 9,000 Pyramidal Orchids and nearly 8,000 Common Spotted Orchids, it was also home to Bee Orchids, the scarce Man Orchid and a wide range of other special chalk downland flowers. These attracted a host of pollinating bees, butterflies (20 species, including Chalkhill Blue) and other insects, which helped support a thriving population of small mammals as well as Common Lizards and Slow-worms.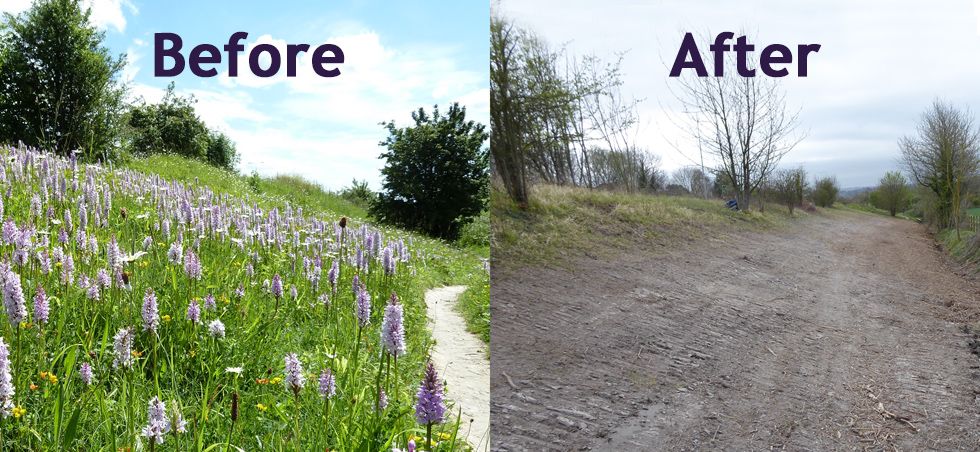 A stark contrast: Blue Bell Hill RNR in summer 2018 and spring 2019 (Plantlife).
After removing some trees from the ditch, the council scraped the bank smooth. Such intensive works will inevitably mean that much of this wildlife is lost for good from the site; other species will take years to recover. At this time of year, the Common Spotted Orchids will have been beginning to show above ground, ahead of flowering from late May onward.
Dr Trevor Dines of
Plantlife
said: "I worry that I've become immune to 'bad stuff' happening to wild flowers over the years. But the destruction a few days ago of 17,000 orchids on a road verge in Kent proved that I'm not.