A word about cryptolinks: we are not responsible for the content of cryptolinks, which are merely links to outside articles that we think are interesting (sometimes for the wrong reasons), usually posted up without any comment whatsoever from me.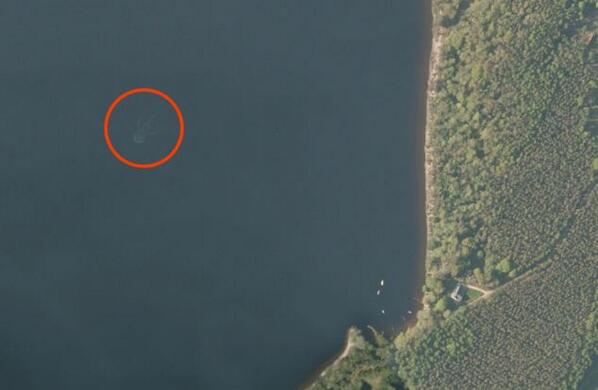 A man claims he has irrefutable proof the Loch Ness monster exists after finding an image of the mythical creature through Apple's map application.
"I could see something big under the water and I saved it [an image] to my phone. My first thought was that it was the monster and I contacted Gary Campbell of the Official Loch Ness Monster Club," said Andy Dixon.
In reality, since Apple's map app is so horrible, the Loch Ness monster was probably just a piece of virtual road that somehow found its way into the middle of Loch Ness.
Read on...
Late last week
The Daily Mail
posted images of what claimed to possibly be the Loch Ness Monster
found
in a satellite image within Apple Maps. Members and 'experts' from the Official Loch Ness Monster Fan Club got all excited, with Club president Gary Campbell saying:
'We've been looking at it for a long time trying to work out exactly what it is. It looks like a boat wake, but the boat is missing. You can see some boats moored at the shore, but there isn't one here. We've shown it to boat experts and they don't know what it is.
It didn't help that Apple executive Phil Schiller tweeted out the link as a joke, snowballing the story:
Nessie?

Well, is this the Loch Ness Monster? Of course not, silly. It was debunked by the folks over at

Metabunk.org

and new images by

@mickwest

clearly show it's actually…(get ready)…just a boat in its wake:

Slow. News. Day. Happy Easter Monday, y'all!
Read on...