A word about cryptolinks: we are not responsible for the content of cryptolinks, which are merely links to outside articles that we think are interesting (sometimes for the wrong reasons), usually posted up without any comment whatsoever from me.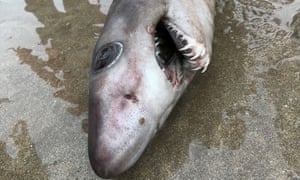 A crocodile shark, a marine creature normally found in deep tropical waters, has been discovered washed up on a beach in Devon.
A family found the shark at Hope Cove beach on the south coast and, thinking it was still alive, braved its sharp teeth to try to return it to the water before realising it was dead.
Experts are puzzled how a shark normally found in and around the equator could have reached the British coast. One theory is that it followed a warm, deep water current before reaching cold water in which it could not survive. Another possibility is that it was caught in fishing nets further south and discarded near the British shore.