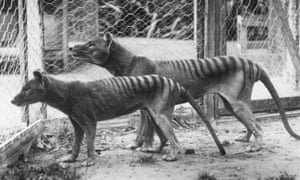 It had been considered extinct for nearly 80 years, but the
Tasmanian tiger
has been declared alive and kicking by an intrepid group of British naturalists.
A team of investigators from t
he Centre for Fortean Zoology
, which operates from a small farmhouse in north Devon, is currently in Tasmania hunting down clues to prove the thylacine, commonly known as the Tassie tiger, still exists.
The Centre for Fortean Zoology said it has talked to several "highly credible" witnesses of the thylacine and has found animal faeces that could belong to the beast. The droppings have been preserved in alcohol and are being sent awayfor DNA analysis.