The 41st Annual Turtle and Tortoise Show
Saturday, June 20, 2015, 11:00 A.M.–5:00 P.M.

The Village Community School, 272 West 10th Street, New York City

Enter at the school's main entrance. The school's new security

policy now requires all persons to show proper identification.

INFORMATION AND RULES

Please note New York State regulations below.
The Show is not open to the general public; admission will be limited to NYTTS members and their guests. All guests will be required to sign in. No sales of turtles are permitted at the show. NYTTS cannot assume liability for any animals.

Bring as many turtles as you like — at least one of each species you own. This is your once-a-year opportunity to show your collection and to see the turtles of other members. Don't hesitate to display your turtles and tortoises even if they are a common species or are not "perfect."

The primary purpose of the show is educational, and participants are encouraged to prepare educational displays to accompany their animals. The displays may incorporate photographs, journals, models, diagrams, and other materials illustrating the natural history and/or captive husbandry and breeding of the particular species. Displays should be self-supporting or designed for tabletop mounting.
FEES AND REGISTRATION


To cover the costs of the show, there will be a $4.00 fee for each turtle and a $5.00 per person admission fee for all non-exhibitors (including members and guests). When you register, you will complete a registration form, and each of your turtles will be assigned a number and given a species ID card. It is a good idea to download, print and complete the registration form in advance (go to the Registration Form MS Word document or PDF version). Present your completed form when you register (leave the registration numbers blank). Additional registration forms will be available at the Show. Please be on time!! Registration begins at 11:00 a.m. No entries will be accepted after judging begins at 1:00 p.m. Non-exhibitors and guests are welcome at 2:00 p.m.
DISPLAY CONTAINERS


Each exhibitor must bring appropriate containers in which to display their turtles. Glass aquariums, bowls, plastic boxes, or wash buckets are all acceptable; clear containers improve visibility. Water will be available for the tanks. All containers must be escape proof! To prevent animals overheating in the hot sun, be sure to bring adequate shading for both aquatic turtle tanks and tortoise pens (an umbrella attached to the display tables works nicely—and will come in handy in case of rain).
JUDGING


Blue, red, and white ribbons (ratings of I, II, and III) will be granted according to merit, and a trophy will be awarded to the Best-In-Show turtle. Judging decisions will be based upon ownership responsibility (length of ownership, general health and physical condition of the animal, and apparent quality of husbandry) and the quality of the animal (configuration, form, and uniqueness).

PERMITS AND THE LAW


New York State law now requires permits for all native New York species:
Blanding's turtle, Emydoidea blandingii
Bog turtle, Glyptemys (Clemmys) muhlenbergii
Eastern box turtle, Terrapene c. carolina
Diamondback terrapin, Malaclemys t. terrapin
Common map turtle, Graptemys geographica
Eastern mud turtle, Kinosternon s. subrubrum
Common musk turtle, Sternotherus odoratus
Eastern painted turtle, Chrysemys p. picta
Common snapping turtle, Chelydra s. serpentina
Eastern spiny softshell turtle, Trionyx s. spiniferus
Spotted turtle, Clemmys guttata
Wood turtle, Glyptemys (Clemmys) insculpta
Do not bring any of these species unless you can show a valid New York State permit for each New York turtle.

New York also requires permits for all turtles and tortoises protected by Federal Regulation 50CFR17. Among the more common protected species are Geochelone radiata, all Gopherus species, and Podocnemis expansa and unifilis.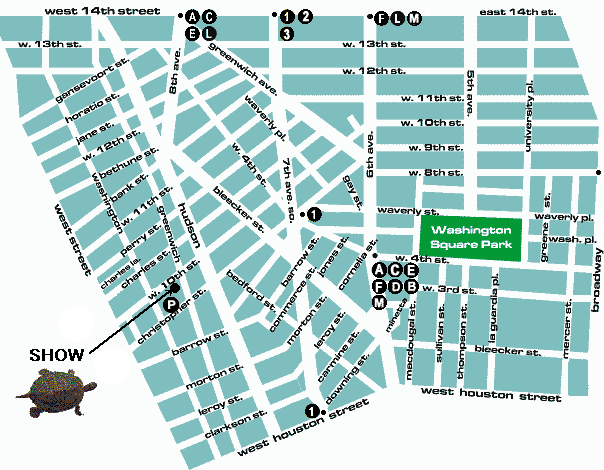 DIRECTIONS TO THE SHOW


The address of the Village Com–munity School is 272 West 10th Street between Washington Street and Greenwich Street (not Green­wich Avenue) just one block from the Hudson River. The show will be held on the school's playground at the corner of Greenwich Street and West 10th Street. Enter at 272 West 10th Street, the front main entrance. The school's new security policy now requires all persons to show proper identification.



Drivers should be aware that street fairs in the Village and other parts of Manhattan may necessitate extra driv­ing time. Parking on the street is possible but may be difficult on week­ends with pleasant weather. There are numerous parking garages and lots nearby.
SUBWAY STATIONS


• West 4th Street (A, C, E, B, D, F, and M trains)
• Christopher St./Sheridan Sq. (#1 Broadway / 7th Ave. Local train)
• Christopher St. PATH Station (New Jersey PATH trains, marked P on the map)
If you have further questions, please e-mail QandA@nytts.org.