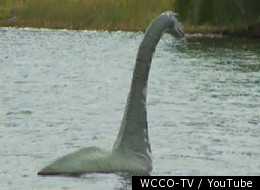 This is one lake monster that knows a thing or two about self-promotion -- it uses Twitter and Facebook to let people know where it's going to show up.
Say hello to Minne, the Minneapolis version of the Loch Ness Monster. Sort of.
With summer not too far off, a yearly phenomenon is rearing its long slimy neck out of several Minneapolis area lakes. And it looks remarkably like a famous 1934 photo of what is said to be Scotland's legendary Loch Ness Monster.
But Minne -- sorry to deflate all true monster believers everywhere -- is, in fact, a work of art that made its first appearance in Lake Harriet back in 2009, according to WCCO-TV.